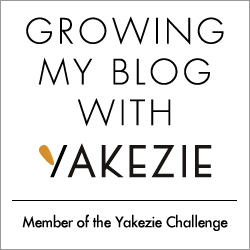 Last January 31, 2014 marked Money Saving Dude's first month, and it sure was a great month for us. The traffic wasn't that great if you're going to compare it with established sites, but that's alright. I had a website before and that site's first month is nothing compare to what Money Saving Dude had experienced in its first 30 days of existence.
What is Yakezie?
Yakezie Network is a network of lifestyle and personal finance bloggers that aims to help its member improve their respective blogs or websites. That's why if you are a blogger in the niche of personal finance or lifestyle, then you should take a look and try to join the great community at Yakezie Network.
Joining the network is easy and can be quite beneficial for you, especially if you're just starting out. People at Yakezie Network are great individuals and they might share with you some tips that helped them reach where they are now. Have I already mention to you that it's FREE to join?
What Do Yakezie Challengers Do?
As a challenger, I've been given a six month period to improve my site's Alexa ranking and reach the 200,000 or less mark. I'm currently at 600,000+, and I've got four more months to improve it. Wait. That's not right. I just joined the network now, right?
Apparently, I registered at Yakezie last November 2013, and I didn't have any idea about this challenge that time. I just started putting up some articles on this site on the last day of the year 2013. If I'm going to consider that as my starting point, then I have barely four months left to complete the challenge.
Anyways, it doesn't matter. I will just try my best to reach the 200,000 mark and maybe with a little bit of luck I could surpass it before May comes.
To all my fellow personal finance bloggers and Yakezie challengers, I hope you could help me in finishing this challenge. Thank you!
Other websites established or not can still join the Yakezie Challenge, if you already have an Alexa rank of less than 200,000, then you could still participate. Your challenge would now be to reach the 100,000 mark. If you are already part of the top 100,000 sites in the world, you will then need to surpass the 50,000 mark.
Challenging, isn't it?
Benefits of Completing the Yakezie Challenge
Added motivation because you're given a deadline to achieve a certain goal, and that is to reach the 200,000 Alexa Rank
More advertisers would come to your site and make you an offer because your site's part of the "elite" class
Some large sites in your niche may start noticing you too that means you'll get…
…more TRAFFIC, and of course…
…you will also get the chance to join the list of amazing people who have completed the Yakezie Challenge themselves
Want to know more about about Yakezie Network and the Yakezie Challenge?
You could read their About page here.
Have you been part of the Yakezie Challenge before? Were you able to complete the challenge?